About Destiny Drama
Destiny Drama Ministries and the Drama, "Your final destination"
Since the mid 90's Rev. Loren and Robin Dunfee have had many opportunities to co labor with willing Christians to lift up the name of Jesus through drama. It has been said and we believe we are near the end of the end times, and if you also, whole heartily believe this, you also know what an urgent day we are living in. It says in Proverbs, "he that wins souls is wise". This drama is an investment into the lives of people you may never see, this side of Heaven, but the dividends will be far reaching!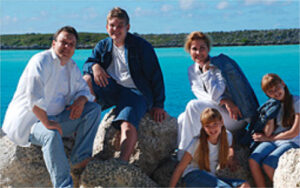 John 14:30, in the Amplified version, describes Satan as an evil genius and ruler of the world. He does everything in his power to lure people into his deadly traps.
Our purpose through "Your Final Destination" is to unmask peoples' true enemy, Satan. With hope that those ensnared by his evil schemes would realize that his only goal for them is one of destruction. Endless thousands, and even into the millions, don't even know that they are headed directly for utter devastation.
They have NEVER experienced "God" in the true sense of the word. When people have an encounter with God their perspective changes and therefore their life course is altered for the better. In Proverbs it says, "Your Word is a light unto my path". We have endeavored to fill this drama with life giving Word. One thing about light, even if a person is blind and can not see it, can be felt. The same is true in the spiritual realm. Many people blinded by Satan might not distinguish right from wrong because they absolutely do not see it; but they will not be able to leave this drama untouched by the warmth of God's love.
Our goal is pursuing a passion for God; therefore , we can not help but minister to people. A minister friend of ours once said, "You never become truly spiritual by sitting down and wishing to become so. You MUST undertake something so great that you cannot accomplish it unaided." There are no Lone Rangers in the Body of Christ. The sooner we
"Never has it been so important to get the Living Word out to a lost and dying generation."